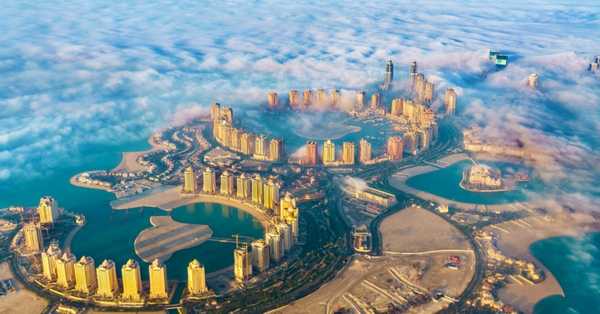 You can find about travel advice such as public places & services, best restaurants, activities, sightseen and other key facts of the Qatar.
Qatar, is a country located in Western Asia, occupying the small Qatar Peninsula on the northeastern coast of the Arabian Peninsula. Its sole land border is with neighboring Gulf Cooperation Council (GCC) monarchy Saudi Arabia to the south, with the rest of its territory surrounded by the Persian Gulf. The Gulf of Bahrain, an inlet of the Persian Gulf, separates Qatar from nearby Bahrain.
In early 2017, Qatar's total population was 2.6 million: 313,000 Qatari citizens and 2.3 million expatriates. Islam is the official religion of Qatar. In terms of income, the country has the third-highest GDP (PPP) per capita in the world, and the sixth-highest GNI per capita (Atlas method). Qatar is classified by the UN as a country of very high human development, having the third-highest HDI in the Arab world after United Arab Emirates and Saudi Arabia. Qatar is a World Bank high-income economy, backed by the world's third-largest natural gas reserves and oil reserves.
Qatar has been ruled by the House of Thani since Mohammed bin Thani signed a treaty with the British in 1868 that recognized its separate status. Following Ottoman rule, Qatar became a British protectorate in the early 20th century until gaining independence in 1971. In 2003, the constitution was overwhelmingly approved in a referendum, with almost 98% in favor. In the 21st century, Qatar emerged as a significant power in the Arab world both through its globally expanding media group, Al Jazeera Media Network, and reportedly supporting several rebel groups financially during the Arab Spring. For its size, Qatar wields disproportionate influence in the world, and has been identified as a middle power.
The 2022 FIFA World Cup will be held in Qatar, making it the first Muslim and Arab country to host the event. The 2030 Asian Games will be held in Qatar.

Foods in Qatar :
1.) Machboos
This is a spiced rice dish that is mixed with any kind of marinated meat or seafood you may like, including chicken, beef, lamb, camel and fish. It's one of the most popular Qatari dishes. Some may sprinkle lemon juice and rose water on top to add an extra pang to the flavour. If all the spices aren't enough for you, a spicy salsa dip is sometimes served next to this dish.
2.) Harees
Similar in consistency to porridge, Harees is made up of boiled or ground wheat, meat and butter. It's a well-known dish in the GCC and very popular during the Holy Month of Ramadan, Eid and other festive occasions. For garnishing, cinnamon and cardamom are the most used.
3.) Thareed
This dish is comparable to a pot of stew. It's a blend of vegetables, such as potatoes, carrots and beans, mixed with chicken or lamb. Bread soaked in the stew is placed at the bottom of the dish, making the bread soft and full of flavour. It's all covered with tomato sauce and spices. You may think of it as a lasagna dish made the Qatari way.
4.) Balaleet
Sometimes a breakfast, other times a dessert, it's a savory dish with contrasting flavours of sweet and salty. It consists of fried vermicelli noodles, cooked with sugar, cinnamon, saffron and cardamom, then topped with an omelette. Some may also sprinkle various nuts on it.
5.) Saloona
This is a spicy meat and/or vegetable broth. It usually contains lots of tomatoes, aubergine, carrots and potatoes. It can be eaten by itself or you can have it with rice.
6.) Margoog
This is a dish full of fiber and essential vitamins. It's usually prepared with zucchini, carrots, eggplant, tomatoes, potatoes and tenderised meat. Raw bread dough is usually used after being kneaded to a thin layer, cut into pieces and boiled in the stock so it can soak up all the flavour. One of the best places to try it is Meshwar Al-Khaleej restaurant in Madinat Khalifa.
7.) Madrouba
This dish is a bit similar to Harees. It is rice cooked with milk, butter and flavoured with cardamom. The meat is stewed along with mashed beans.
8.) Luqaimat
Soft on the inside and crunchy on the outside, this is the perfect dessert. This is basically deep fried dough dipped in syrup or honey. Luqaimat is an Arabic word for "bite-sized" and it's a very popular Arab dish, especially in the Holy Month of Ramadan. There are different ways of preparation, however Qataris usually make it with butter, milk, flour, sugar, saffron and cardamom.

Weather & geography in Qatar :
Occupying a small land on the eastern coast of the Arabian Peninsula, the sovereign state of Qatar has a dry, subtropical desert climate with low annual rainfall and intensely hot and humid summers. The weather in Qatar can be broadly grouped into two seasons: hot (May to October) and cool (December to February).

Per day Cost in Qatar :
You should plan to spend around QAR633 ($174) per day on your vacation in Qatar, which is the average daily price based on the expenses of other visitors. Past travelers have spent, on average, QAR179 ($49) on meals for one day and QAR67 ($19) on local transportation.

History of Qatar :
The history of Qatar from its first duration of human occupation to its formation as a modern state. Human occupation of Qatar dates back to 50,000 years ago, and Stone Age encampments and tools have been unearthed in the peninsula. Mesopotamia was the first civilization to have a presence in the area during the Neolithic period, evidenced by the discovery of potsherds originating from the Ubaid period near coastal encampments.
The peninsula fell under the domain of several different empires during its early years of settlement, including the Seleucid, the Parthians and the Sasanians. In 628 AD, the population was introduced to Islam after Muhammad sent an envoy to Munzir ibn Sawa who was the Sasanid governor of Eastern Arabia. It became a pearl trading center by the 8th century. The Abbasid era saw the rise of several settlements. After the Bani Utbah and other Arab tribes conquered Bahrain in 1783, the Al Khalifa imposed their authority over Bahrain and mainland Qatar. Over the proceeding centuries, Qatar was a site of contention between the Wahhabi of Najd and the Al Khalifa. The Ottomans expanded their empire into Eastern Arabia in 1871, withdrawing from the area in 1915 after the beginning of World War I.
In 1916, Qatar became a British protectorate and Abdullah Al Thani signed a treaty stipulating that he could only cede territory to the British in return for protection from all aggression by sea and support in case of a land attack. A 1934 treaty granted more extensive protection. In 1935, a 75-year oil concession was granted to the Qatar Petroleum Company and high-quality oil was discovered in 1940 in Dukhan.
During the 1950s and 1960s, increasing oil revenues brought prosperity, rapid immigration, substantial social progress, and the beginnings of the country's modern history. After Britain announced a policy of ending the treaty relationships with the Persian Gulf sheikdoms in 1968, Qatar joined the other eight states then under British protection in a plan to form a federation of Arab emirates. By mid-1971, as the termination date of the British treaty relationship approached, the nine still had not agreed on terms of union. Accordingly, Qatar declared its independence on September 3, 1971. In June 1995, deputy emir Hamad bin Khalifa became the new emir after his father Khalifa bin Hamad in a bloodless coup. The emir permitted more liberal press and municipal elections as a precursor to parliamentary elections. A new constitution was approved via public referendum in April 2003 and came into effect in June 2005.
Language in Qatar :
The State of Qatar is a West Asian country with a population estimate of 2,672,522. The population varies widely in culture and origin, with different groups using different languages. Apart from the ethnic languages of the native inhabitants, there are several foreign languages, as well as ethnic languages, from other immigrant communities spoken by the expatriate community. Some of the languages spoken in Qatar include Arabic, English, French, Hindi, Urdu, Tagalog, Malaysian, Nepali, and Baluchi. Arabic is designated as the country's official language.

Culture of Qatar :
The culture of Qatar is strongly influenced by traditional Bedouin culture, with less acute influence deriving from India, East Africa and elsewhere in the Persian Gulf. The peninsula's harsh climatic conditions compelled its inhabitants to turn to the sea for sustenance. Thus, there is a distinct emphasis placed on the sea in local culture. Literature and folklore themes are often related to sea-based activities.
Oral arts such as poetry and singing were historically more prevalent than figurative art because of the restrictions placed by Islam on depictions of sentient beings; however, certain visual art disciplines such as calligraphy, architecture and textile arts were widely practiced. Figurative arts were gradually assimilated into the country's culture during the oil era.
Since 2016, Salah bin Ghanim Al Ali has been the Minister for Culture and Sports of Qatar.

Place to visit in Qatar :
Souq Waqif
Museum of Islamic Art
National Museum of Qatar
Katara Cultural Village
The Pearl-Qatar
The Corniche
Villaggio
Al Khor Mall
Purple Island - Al Khor Island
Aspire Park
Qatar National Library
Hotel in  Qatar :
(1) Jouri a Murwab hotel Doha 
(2) Premier Inn Doha Education City 
(3) Al Diyafa Furnished Suites
(4) Ramada Encore Doha 
(5) Cielo Hotel Lusail

How to reach in Qatar :
There are following 2 routes to reaching in Qatar.
1.) Reaching Qatar by Air
When going by plane to Qatar, you will enter the country at the Hamad International Airport in Doha, the capital of the country.
2.) Reaching Qatar by Bus
You can travel to Qatar by bus through Saudi Arabia. There are fixed bus routes, within Qatar. However, customs can take up to 4 hours especially during off-hours.

Travel Guide for Qatar : Food, Cost, Weather & geography, History, language, culture, things to see and do and how to reach. – Published by The Beyond News (Travelling).