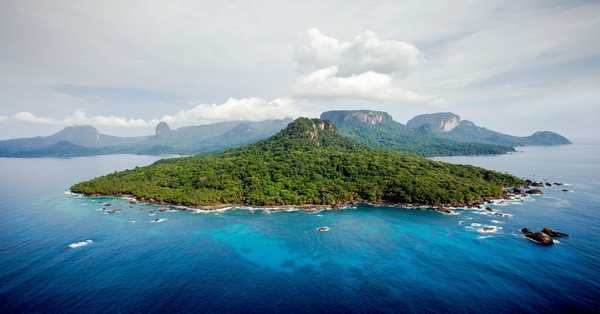 You can find about travel advice such as public places & services, best restaurants, activities, sightseen and other key facts of the São Tomé and Príncipe.
São Tomé and Príncipe officially the Democratic Republic of São Tomé and Príncipe, is an island country in the Gulf of Guinea, off the western equatorial coast of Central Africa. It consists of two archipelagos around the two main islands of São Tomé and Príncipe, about 140 km (87 mi) apart and about 250 and 225 km (155 and 140 mi) off the northwestern coast of Gabon.
The islands were uninhabited until their discovery by Portuguese explorers in the 15th century. Gradually colonized and settled by the Portuguese throughout the 16th century, they collectively served as a vital commercial and trade center for the Atlantic slave trade. The rich volcanic soil and proximity to the Equator made São Tomé and Príncipe ideal for sugar cultivation, followed later by cash crops such as coffee and cocoa; the lucrative plantation economy was heavily dependent upon imported African slaves. Cycles of social unrest and economic instability throughout the 19th and 20th centuries culminated in peaceful independence in 1975. São Tomé and Príncipe has since remained one of Africa's most stable and democratic countries.
With a population of 201,800 (2018 official estimate), São Tomé and Príncipe is the second-smallest African sovereign state after Seychelles, as well as the smallest Portuguese-speaking country. Its people are predominantly of African and mestiço descent, with most practicing Catholic Christianity. The legacy of Portuguese rule is also visible in the country's culture, customs, and music, which fuse European and African influences. São Tomé and Príncipe is a founding member state of the Community of Portuguese Language Countries.

Foods in São Tomé and Príncipe :
(1) Calulu
(2) Sonhos de banana
(3) São Tomé Peach
(4) Arroz doce
(5) Banana pap
(6) Barriga de peixe
(7) Blablá
(8) Broa
(9) Cachupa
(10) Djogo
(11) Boiled pork

Weather & geography in São Tomé and Príncipe :
An equatorial climate with heavy rainfall, high temperatures and humidity. The south of the main island, being mountainous, is wetter than the north. The main dry season is from early June to late September. There is another dry season, the 'Pequenha Gravana', from the end of December to the start of February.

Per day Cost in São Tomé and Príncipe :
The average price of a 7-day trip to Principe Island is $4,213 for a solo traveler, $7,567 for a couple, and $14,185 for a family of 4. Principe Island hotels range from $57 to $996 per night with an average of $393, while most vacation rentals will cost $160 to $280 per night for the entire home. Average worldwide flight costs to Port Harcourt Airport (PHC) are between $1,994 and $3,806 per person for economy flights and $6,257 to $11,943 for first class. Depending on activities, we recommend budgeting $104 to $236 per person per day for transportation and enjoying local restaurants.

History of São Tomé and Príncipe :
São Tomé and Príncipe were uninhabited when they were discovered, about 1470, by Portuguese navigators. In 1778 the Portuguese ceded the islands of Fernando Pó (Bioko) and Annobón (Pagalu), on either side of Sao Tome and Principe, to the Spaniards, who wished to develop their own African slave trade.
Language in São Tomé and Príncipe :
Portuguese

Culture of São Tomé and Príncipe :
As is evidenced by the São Tomé's history, the main cultural influences are Portuguese as a result of the country's long colonial ties with the European nation and West African due to the many slaves that were brought from this region to work on plantations during the slave trade.

Place to visit in São Tomé and Príncipe :
(1) Pico Cão Grande
(2) Cascata de Sao Nicolau
(3) Lagoa Azul
(4) Cascata de Sao Nicolau
(5) Obo National Park
(6) Praia Jale
Hotel in  São Tomé and Príncipe :
(1) Hotel Central
(2) Roça Santo António Ecolodge
(3) Pestana Sao Tome
(4) Omali São Tomé 
(5) SH Boutique Hotel 

How to reach in São Tomé and Príncipe :
The only way to reach Sao Tome & Principe is by plane to São Tomé International Airport. It's the only international airport in the country and one of only two airports. The second airport is located on Principe and is only served by one local flight a day between Sao Tome and Principe.

Travel Guide for São Tomé and Príncipe : Food, Cost, Weather & geography, History, language, culture, things to see and do and how to reach. – Published by The Beyond News (Travelling).