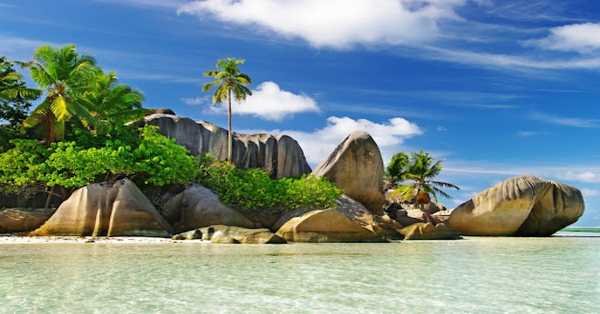 You can find about travel advice such as public places & services, best restaurants, activities, sightseen and other key facts of the in Seychelles .
Seychelles French officially the Republic of Seychelles is an archipelagic island country in the Indian Ocean at the eastern edge of the Somali Sea. It consists of 115 islands. Its capital and largest city, Victoria, is 1,500 kilometres (932 mi) east of mainland Africa. Other nearby island countries and territories include the Comoros, Madagascar, Mauritius, and the French overseas regions of Mayotte and Réunion to the south; and Maldives and the Chagos Archipelago (administered by the United Kingdom as the British Indian Ocean Territory) to the east. Its estimated population of 98,462 is the smallest population of any sovereign African country.Seychelles was uninhabited prior to being encountered by Europeans in the 16th century. It faced competing French and British interests until coming under full British control in the late 18th century. Since proclaiming independence from the United Kingdom in 1976, it has developed from a largely agricultural society to a market-based diversified economy, characterized by rapidly rising service, public sector, and tourism activities. From 1976 to 2015, nominal GDP grew nearly 700%, and purchasing power parity nearly 1600%. Since the late 2010s, the government has taken steps to encourage foreign investment.Today, Seychelles boasts the highest nominal per capita GDP of any African nation. It has the second-highest Human Development Index of any African country after Mauritius. It is one of only two African countries classified as a high-income economy by the World Bank (the other being Mauritius).Seychellois culture and society is an eclectic mix of French, British, and African influences, with more recent infusions of Chinese and Indian elements. The country is a member of the United Nations, the African Union, the Southern African Development Community, and the Commonwealth of Nations.
Foods in  Seychelles  :

(1) Octopus and smoked fish salads  : 
Boiled octopus or smoked fish mixed with green peppers (capsicum), fresh tomatoes, and onions. Like other local food you can create your own version by adding more fresh greens if you so desire.
(2) Octopus curry in coconut milk :
This is a dish that is included in every island celebration. Boiled and diced octopus (zourit) cooked in coconut milk and curry powder with a whole lot of added spices like garlic, ginger and eggplant. Every family has its own style of cooking it.
(3) Grilled fish – red snapper of the rabbit fish :
If you have fresh catch, all the better, if not you can use other fresh fish. The local favourite is the red snapper (bourzwa) and the rabbit fish (kordonnyen) cooked with chillies either in a hot oven or on open fire. It's another must-have at celebration events. Careful though, it can be quite hot and spicy.
(4) Fish curry (bonito) : 
Another hot and spicy mix! Any fish that won't fall apart when cooked can be used for this one, but here we love using chunks of the bonito (bonit). It is a fiery mix of curry powder, curry leaves and turmeric. We do at times use other paste to dampen the spicy and hot taste.
(5) Shark chutney (satini reken) : 
This one has a distinctive sour taste. It's boiled shark mashed and mixed with local lime juice or the bilimbi as it is commonly known with onions, pepper and other spices. 
(6) Banana in coconut milk (ladob banann) : 
This is usually large ripe plantain cooked with coconut milk and sugar.It's a definitely a must-taste dish. 
Weather & geography in  Seychelles  :

Lying just below the equator, Seychelles enjoys a warm tropical climate all year round. Southeast Monsoon (June to September): The strong southeast trade winds bring a dry and slightly cooler weather to Seychelles, causing the average high in Mahé to dip two degrees to 28°C (82°F).Seychelles, one of the world's smallest countries, is composed of two main island groups: the Mahé group of more than 40 central, mountainous granitic islands and a second group of more than 70 outer, flat, coralline islands. The islands of the Mahé group are rocky and typically have a narrow coastal strip and a central range of hills. The overall aspect of those islands, with their lush tropical vegetation, is that of high hanging gardens overlooking silver-white beaches and clear lagoons. The highest point in Seychelles, Morne Seychellois (2,969 feet [905 metres]), situated on Mahé, is located within this mountainous island group. The coralline islands, rising only a few feet above sea level  are flat with elevated coral reefs at different stages of formation. These islands are largely waterless, and very few have a resident population.
Per day Cost in  Seychelles  :

You should plan to spend around S₨2,223 ($137) per day on your vacation in the Seychelles, which is the average daily price based on the expenses of other visitors. Past travelers have spent, on average, S₨562 ($35) on meals for one day and S₨741 ($46) on local transportation.
History of  Seychelles  :
The history of Seychelles dates back to the fourth of the Portuguese India Armadas led by Vasco da Gama, though Seychelles was likely already known to Arab navigators and other sailors for many centuries. On 15 March 1503, the scrivener Thomé Lopes noted the sighting of an elevated island, doubtless one of the granitic islands and almost certainly Silhouette Island. The first recorded landing was by the men of the English East India Company ship Ascension, which arrived in Seychelles in January 1609. The islands were claimed by France in 1756. Seychelles remained uninhabited until the first settlers arrived on board the ship Thélemaque, which arrived on 27 August 1770. Captain Leblanc Lecore landed the first colonists, comprising 15 white men, eight Africans and five Indians. The Seychellois Creole language developed as a means of communication between the different races. The British frigate Orpheus commanded by Captain Henry Newcome arrived at Mahé on 16 May 1794. Terms of capitulation were drawn up and the next day Seychelles was surrendered to Britain. Following the fall of Mauritius to British forces, Captain Phillip Beaver of the Nisus arrived at Mahé on 23 April 1811 and took possession of Seychelles as a permanent colony of Britain. The Seychelles became an independent republic in 1976. Following a coup d'état, a socialist one-party state ruled the country from 1977 to 1993. The subsequent democratic Presidential elections were won by candidates of the same party.
Language in  Seychelles  :
The national languages of Seychelles are Seychellois Creole, English and French.[1] Seychellois Creole, a French-based creole language, is by far the most commonly spoken language in the archipelago and is spoken natively by about 95% of the population. Nevertheless, the country was a British colony for over a century and a half, and the legacy of British Seychelles made English remain the main language in government and business. French was introduced before the British rule. It has remained in use largely because it is used by the Franco-Seychellois minority and is similar to Seychellois Creole.
Culture of  Seychelles  :

The Seychellois culture is characterised by the diversity of the people who have settled there over the years. Through its art and traditions, the archipelago is thus enriched by African, Asian and European influences. This results in a curious, but harmonious mixture in the way of life of its inhabitants.
During your stay in the Seychelles, you will observe this multicultural touch in the gastronomy, crafts and architecture of the country. Generally speaking, the way of life of the Seychellois will testify to this joyful melting pot. The various religions practiced here illustrate this point. Christianity, Islam, Hinduism and local beliefs blend harmoniously.The languages ​​spoken in the Seychelles follow this same reasoning of mixing different origins. Creole is spoken throughout the country, while English and French are used as the language of administration. In Seychellois cuisine, rice, curry and coconut milk, used as staple foods, will also recall these multiple origins.
Place to visit in  Seychelles  :

(1) Anse Lazio, Praslin
(2) Anse Intendance, Mahé
(3) Baie Lazare, Mahé
(4) La Digue Island
(5) Curieuse Island Day Trip
(6) Morne Seychellois National Park
(7) Ste Anne Marine National Park
Hotel in  Seychelles :

(1) Victoria Harbour, Round Island
(2) Jardin Du Roi Spice Garden, Anse Royale
(3) Seychelles National Museum, Victoria
(4) Le Repaire - Boutique Hotel & Restaurant
(5) Chalets de Palma 
How to reach in  Seychelles  :

SEZ Airport is located near the capital city of Victoria and acts as the hub of Air Seychelles. Travelers can also book Emirates, Jet Airways, SriLankan, and Kenya Airways to reach Seychelles from India. The distance between Seychelles and India by air is about 3,794 km or 2,357 miles.
Travel Guide for  Seychelles  : Food, Cost, Weather & geography, History, language, culture, things to see and do and how to reach. – Published by The Beyond News (Travelling).