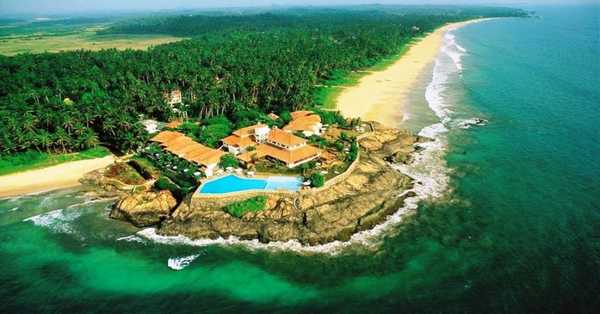 You can find about travel advice such as public places & services, best restaurants, activities, sightseen and other key facts of the Sri Lanka .
Sri Lanka, is an island country in South Asia. It lies in the Indian Ocean, southwest of the Bay of Bengal, and southeast of the Arabian Sea; it is separated from the Indian subcontinent by the Gulf of Mannar and the Palk Strait, but shares a maritime border with India. Sri Jayawardenepura Kotte is its legislative capital, and Colombo is its largest city and financial centre.
Sri Lanka's documented history goes back 3,000 years, with evidence of prehistoric human settlements that dates to at least 125,000 years ago. It has a rich cultural heritage. The earliest known Buddhist writings of Sri Lanka, known collectively as the Pāli canon, date to the fourth Buddhist council, which took place in 29 BCE. Sri Lanka's geographic location and deep harbours have made it of great strategic importance, from the earliest days of the ancient Silk Road trade route to today's so-called maritime Silk Road. Because its location made it a major trading hub, it was already known to both Far Easterners and Europeans as long ago as the Anuradhapura period. The country's trade in luxury goods and spices attracted traders of many nations, which helped to create Sri Lanka's diverse population. During a period of great political crisis in the Sinhalese kingdom of Kotte, the Portuguese arrived in Sri Lanka (largely by accident) and then sought to control the island's maritime regions and its lucrative external trade. Part of Sri Lanka became a Portuguese possession. After the Sinhalese-Portuguese war, the Dutch and the Kingdom of Kandy took control of those areas. The Dutch possessions were then taken by the British, who later extended their control over the whole island, colonising it from 1815 to 1948. A national movement for political independence arose in the early 20th century, and in 1948, Ceylon became a dominion. The dominion was succeeded by the republic named Sri Lanka. Sri Lanka's more recent history was marred by a 26-year civil war, which began in 1983 and ended decisively in 2009; when the Sri Lanka Armed Forces defeated the Liberation Tigers of Tamil Eelam.
Today, Sri Lanka is a multinational state, home to diverse cultures, languages, and ethnicities. The Sinhalese are the majority of the nation's population. The Tamils, who are a large minority group, have also played an influential role in the island's history. Other long established groups include the Moors, the Burghers, the Malays, the Chinese, and the indigenous Vedda. The island has had a long history of engagement with modern international groups: it is a founding member of the SAARC and a member of the United Nations, the Commonwealth of Nations, the G77, and the Non-Aligned Movement. Sri Lanka is the only South Asian country to have been rated high on the Human Development Index, and has the second highest per capita income in the region.
Foods in Sri Lanka :
(1) Fish Curry and Mixed Rice :
There's nothing more common to eat as Sri Lankan food than a nutritious plate of rice and curry. You normally get a plate of rice piled with a few of the daily vegetable curries and a choice of fish curry as well.A plate like the one above cost me 120 LKR ($1.09), but without fish it would have even been less.
(2) Deviled Sweet and Sour Fish Curry :  
There are a lot of different deviled dishes in Sri Lanka. This fish was deep fried and smothered in a lovely sweet and sour sauce and lightly fried again with red onions and banana peppers. It was excellent with fried rice and a flatbread paratha on the side.
(3) Chili Fish Curry : 
This particular fish curry in Sri Lanka reminded me of the Burmese food curry that I also highly enjoyed, except it was often a bit heavier on the spice blend, which I loved.The fish curry in Sri Lanka was extremely fragrant, oily, and the sauce was marvelous with a giant plate of rice.
(4) Sri Lankan Dhal Curry (Parippu) : 
Dhal curry is one of the most commonly consumed staple dishes in Sri Lankan cuisine.The dhal, usually masoor dhal which are red lentils, are often cooked in a beautiful blend of spices, and then a few spoons of coconut milk are added to create a rich stew.Dhal curry is omnipresent in Sri Lanka, and it's consumed with all forms of rice and bread.
(5) Young Jackfruit Curry (Polos) :
Sri Lankan food is famous for its curries – and "polos", or young jackfruit curry, is one of my personal favorites.Jackfruit is eaten in a number of different ripeness stages in Sri Lanka, but for preparing polos, the young, unripe jackfruit is used. The fruit is cut into chunks and simmered in a blend of rich spices.This particular version (brown dish above) was so delicious, I couldn't stop eating it. The pieces of jackfruit were tender, and tasted almost like a juicier version of a potato, and they were filled with the beautiful flavor spices.Polos is so good, it could almost pass for chunks of tender beef!
Weather & geography in  Sri Lanka :
Sri Lanka's climate can be described as tropical, and quite hot. Its position between 5 and 10 north latitude endows the country with year-round warm weather, moderated by ocean winds and considerable moisture. ... The average yearly temperature for the country as a whole ranges from 28 to 30 °C (82.4 to 86.0 °F).Sri Lanka, formerly called "Ceylon", is an island nation in the Indian Ocean, southeast of the Indian subcontinent, in a strategic location near major Indian Ocean sea lanes. The nation has a total area of 65,610 square kilometres (25,330 sq mi), with 64,630 square kilometres (24,950 sq mi) of land and 980 square kilometres (380 sq mi) of water. Its coastline is 1,340 kilometres (830 mi) long. The main island of Sri Lanka has an area of 65,268 km2; it is the twenty-fifth largest island of the world by area. Dozens of offshore islands account for the remaining 342 km2 area.[citation needed] The largest offshore island, Mannar Island, leads to Adam's Bridge.Adam's Bridge, a land connection to the Indian mainland, is now mostly submerged with only a chain of limestone shoals remaining above sea level. According to temple records, this natural causeway was formerly complete, but was breached by a violent storm (probably a cyclone) in 1480. The formation is also known as Rama's Bridge, as according to Hindu mythology, it was constructed during the rule of Lord Rama.Sri Lanka's climate includes tropical monsoons: the northeast monsoon (December to March), and the southwest monsoon (June to October). Its terrain is mostly low, flat to rolling plain, with mountains in the south-central interior. The highest point is Pidurutalagala at 2,524 m (8,281 ft). Natural resources include limestone, graphite, mineral sands, gems, phosphates, clay, and hydropower.
Per day Cost in Sri Lanka :
You should plan to spend around LKR6,698 ($34) per day on your vacation in Sri Lanka, which is the average daily price based on the expenses of other visitors. Past travelers have spent, on average, LKR1,407 ($7.07) on meals for one day and LKR589 ($2.96) on local transportation.
History of Sri Lanka :
The history of Sri Lanka is intertwined with the history of the broader Indian subcontinent and the surrounding regions, comprising the areas of South Asia, Southeast Asia and Indian Ocean.The earliest human remains found on the island of Sri Lanka date to about 38,000 years ago (Balangoda Man).The historical period begins roughly in the 3rd century, based on Pali chronicles like the Mahavansa, Deepavansa, and the Choolavansa. They describe the history since the arrival of Sinhalese from Northern India[1][2][3][4] The earliest documents of settlement in the Island are found in these chronicles. These chronicles cover the period since the establishment of the Kingdom of Tambapanni in the 6th century BCE by the earliest ancestors of the Sinhalese. The first Sri Lankan ruler of the Anuradhapura Kingdom, Pandukabhaya, is recorded for the 4th century BCE. Buddhism was introduced in the 3rd century BCE by Arhath Mahinda (son of the Indian emperor Ashoka).
The island was divided into numerous kingdoms over the following centuries, intermittently (between CE 993–1077) united under Chola rule. Sri Lanka was ruled by 181 monarchs from the Anuradhapura to Kandy periods.[5] From the 16th century, some coastal areas of the country were also controlled by the Portuguese, Dutch and British. Between 1597 and 1658, a substantial part of the island was under Portuguese rule. The Portuguese lost their possessions in Ceylon due to Dutch intervention in the Eighty Years' War. Following the Kandyan Wars, the island was united under British rule in 1815. Armed uprisings against the British took place in the 1818 Uva Rebellion and the 1848 Matale Rebellion. Independence was finally granted in 1948 but the country remained a Dominion of the British Empire until 1972.In 1972 Sri Lanka assumed the status of a Republic. A constitution was introduced in 1978 which made the Executive President the head of state. The Sri Lankan Civil War began in 1983, including Insurrections in 1971 and 1987, with the 25-year-long civil war ending in 2009. There was an attempted coup in 1962 against the government under Sirimavo Bandaranaike.
Language in Sri Lanka :
Several languages are spoken in Sri Lanka within the Indo-Aryan, Dravidian and Austronesian families. Sri Lanka accords de facto official status to Sinhala and Tamil, and English as a link language. The languages spoken on the island nation are deeply influenced by the various languages in India, Europe and Southeast Asia. Arab settlers and the colonial powers of Portugal, the Netherlands and Britain have also influenced the development of modern languages in Sri Lanka. See below for the most-spoken languages of Sri Lanka.
Culture of  Sri Lanka :
The culture of Sri Lanka mixes modern elements with traditional aspects and is known for its regional diversity. Sri Lankan culture has long been influenced by the heritage of Theravada Buddhism passed on from India, and the religion's legacy is particularly strong in Sri Lanka's southern and central regions. South Indian cultural influences are especially pronounced in the northernmost reaches of the country. The history of colonial occupation has also left a mark on Sri Lanka's identity, with Portuguese, Dutch, and British elements having intermingled with various traditional facets of Sri Lankan culture. Additionally, Indonesian culture has also influenced certain aspects of Sri Lankan culture. Culturally, Sri Lanka possesses strong links to both India and Southeast Asia.
The country has a rich artistic tradition, with distinct creative forms that encompass music, dance, and the visual arts. Sri Lankan culture is internationally associated with cricket, a distinct cuisine, an indigenous holistic medicine practice, religious iconography such as the Buddhist flag, and exports such as tea, cinnamon, and gemstones, as well as a robust tourism industry. Sri Lanka has longstanding ties with the Indian subcontinent that can be traced back to prehistory. Sri Lanka's population is predominantly Sinhalese with sizable Sri Lankan Moor, Sri Lankan Tamil, Indian Tamil, Sri Lankan Malay and Burgher minorities.
Place to visit in Sri Lanka :
(1) Galle Fort
(2) Pinnawala Elephant Orphanage
(3) Yala National Park
(4) Colombo
(5) Beira Lake
(6) Arugam Bay
(7) Nuwara Eliya
(8) Dambulla Cave Temple
(9) Sigiriya
(10) Jaffna
Hotel in Sri Lanka :
(1) Earl's Regency Hotel
(2) Heritance Kandalama
(3) The Grand Kandyan Hotel
(4) Hotel Sudu Araliya
How to reach in Sri Lanka :
Colombo International Airport (CMB) is the main point of entry for international travelers in Sri Lanka. The availability of domestic flights in Sri Lanka is limited as most of the cities are quite near to each other. Direct flights from Indian cities like Delhi, Mumbai, Bangalore , and Chennai are available by Air India, Jet Airways, and SriLankan Airlines. India to Sri Lanka flight duration may vary from 90 minutes to 3 hours 30 minutes depending on the airport.
Travel Guide for Sri Lanka : Food, hotel, Cost, Weather & geography, History, language, culture, things to see and do and how to reach. – Published by The Beyond News (Travelling).