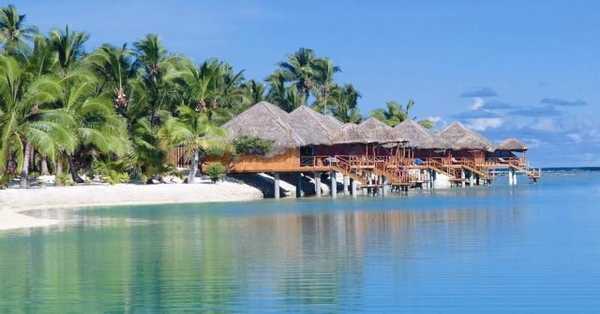 You can find about travel advice such as public places & services, best restaurants, activities, sightseen and other key facts of the The Cook Islands .
The Cook Islands is a self-governing island country in the South Pacific Ocean in free association with New Zealand. It comprises 15 islands whose total land area is 240 square kilometres (93 sq mi). The Cook Islands' Exclusive Economic Zone (EEZ) covers 1,960,027 square kilometres (756,771 sq mi) of ocean.New Zealand is responsible for the Cook Islands' defence and foreign affairs, but these responsibilities are exercised in consultation with the Cook Islands. In recent times, the Cook Islands have adopted an increasingly independent foreign policy. Cook Islanders are citizens of New Zealand, but they also have the status of Cook Islands nationals, which is not given to other New Zealand citizens. The Cook Islands have been an active member of the Pacific Community since 1980.The Cook Islands' main population centres are on the island of Rarotonga (13,007 in 2016), where there is an international airport. There is also a larger population of Cook Islanders in New Zealand itself: in the 2013 census, 61,839 people said they were Cook Islanders, or of Cook Islands descent.With over 168,000 visitors travelling to the islands in 2018, tourism is the country's main industry, and the leading element of the economy, ahead of offshore banking, pearls, and marine and fruit exports.
Foods in The Cook Islands  :
(1) Rori :
 This sea cucumber can be eaten either raw or cooked and is usually served with butter, garlic and spice.
(2) Ika : 
This dish is made up of raw fish that has been marinated in lemon juice (or a mix of vinegar, oil and salt) and is served with onion and coconut cream.
(3) Rukau :
 Coconut cream, salt and onions are mixed together with mashed taro leaves.
(4) Umukai : 
This is a traditional feast held on special occasions. Umukai literally means "food from the oven" and as such, the meal is cooked in an oven that has been dug out of the earth called an umu. The oven is filled with firewood and basalt rocks and a grill made of banana wood is placed over the hot stones. Meat, ika and vegetables are then wrapped in banana leaves and are placed in a sack and put in the oven. The oven is covered and is left to cook for around three hours. This method of cooking is very elaborate and time consuming, but well worth the wait.
Weather & geography in  The Cook Islands :
It is generally hot throughout the year, although the trade winds provide some moderating influence. Rainfall is heaviest in Rarotonga, while the northern atolls tend to be drier. The coolest months are June to August, while November to March marks the warmer season, which also has the highest rainfall.The Cook Islands can be divided into two groups: the Southern Cook Islands and the Northern Cook Islands. The country is located in Oceania, in the South Pacific Ocean, about one-half of the way from Hawaii to New Zealand.
Per day Cost in The Cook Islands :
If you're backpacking the Cook Islands, expect to spend about 100 NZD ($63 USD) per day.Rarotonga is quite often cheaper than Aitutaki so if you're on a budget, it's safe to stay in this island. Depending on your spending habits and lifestyle, a safe manageable pocket money would be $100 - $150 NZ dollars per day.
History of The Cook Islands :
The Cook Islands are named after Captain James Cook, who visited the islands in 1773 and 1777, although Spanish navigator Alvaro de Mendaña was the first European to reach the islands in 1595. The Cook Islands became a British protectorate in 1888.By 1900, the islands were annexed as British territory. In 1901, the islands were included within the boundaries of the Colony of New Zealand.The Cook Islands contain 15 islands in the group spread over a vast area in the South Pacific. The majority of islands are low coral atolls in the Northern Group, with Rarotonga, a volcanic island in the Southern Group, as the main administration and government centre. The main Cook Islands language is Rarotongan Māori. There are some variations in dialect in the 'outer' islands.
It is thought that the Cook Islands may have been settled between the years 900-1200 CE. Early settlements suggest that the settlers migrated from Tahiti, to the northeast of the Cooks. The Cook Islands continue to hold important connections with Tahiti, and this is generally found in the two countries' culture, tradition and language. It is also thought that the early settlers were true Tahitians, who landed in Rarotonga (Takitumu district). There are notable historic epics of great warriors who travel between the two nations for a wide variety of reasons. The purpose of these missions is still unclear but recent research indicates that large to small groups often fled their island due to local wars being forced upon them. For each group to travel and to survive, they would normally rely on a warrior to lead them. Outstanding warriors are still mentioned in the countries' traditions and stories.
These arrivals are evidenced by an older road in Toi, the Ara Metua, which runs around most of Rarotonga, and is believed to be at least 1200 years old. This 29 km long, paved road is a considerable achievement of ancient engineering, possibly unsurpassed elsewhere in Polynesia. The islands of Manihiki and Rakahanga trace their origins to the arrival of Toa Nui, a warrior from the Puaikura tribe of Rarotonga, and Tepaeru, a high-ranking woman from the Takitumu or Te-Au-O-Tonga tribes of Rarotonga. Tongareva was settled by an ancestor from Rakahanga called Mahuta and an Aitutaki Ariki & Chief Taruia, and possibly a group from Tahiti. The remainder of the northern islands, Pukapuka (Te Ulu O Te Watu) was probably settled by expeditions from Samoa.
Language in The Cook Islands  :
There are three distinct Polynesian languages spoken in the Cook Islands. Cook Islands Māori is an Eastern Polynesian language with a number of dialects. This language belongs to the same language family as New Zealand Māori and the languages of Hawai'i and Tahiti.
Culture of  The Cook Islands :
Ancient ways of tribal life can be experienced at one of our authentic village tours on Rarotonga or Aitutaki. On the same soil our ancestors lived and died, learn about our tribal customs and rich history of tribal warfare, invasion and cannibalism before the arrival of Christianity. Or take one of our fabulous land or water based tours - we're always sharing a little bit of our history and culture! Relax on a Sunday, just like the locals. Attend a church service at one of the many beautiful Cook Islands Christian Churches (CICC) dotted around the islands and be greeted by a warm welcome and some of the most beautiful hymns and harmonies you have ever heard. One of the best ways to connect with the friendly locals is to visit the vibrant Saturday morning Punanga Nui Markets in Rarotonga. This is the social hub of the island, where tourists and locals come together to enjoy delicious local produce, talented local music and dance performances and authentic Cook Islands crafts.
Place to visit in The Cook Islands :
(1) Aitutaki Lagoon
(2) Tapuaetai (One Foot Island) Tour
(3) Muri Beach, Rarotonga
(4) Te Vara Nui Village Tour & Cultural Show, Rarotonga
(5) Titikaveka Beach, Rarotonga
(6) Aroa Marine Reserve, Rarotonga
(7) Cross-Island Hike to Te Rua Manga (The Needle), Rarotonga
(8) Avarua, Rarotonga
(9) Maire Nui Gardens, Rarotonga
(10)  Mount Maungapu, Aitutaki
Hotel in The Cook Islands :
(1) Little Polynesian Resort
(2) Pacific Resort Rarotonga
(3) The Rarotongan Beach Resort & Lagoonarium
(4) Aro'a Beachside Inn
(5) Pacific Resort Aitutaki
How to reach in The Cook Islands :
There are currently four airlines flying to the Cook Islands – Air New Zealand, Jetstar, Virgin Australia and Air Tahiti. There are direct flights to Rarotonga from Auckland, Sydney, Los Angeles and Tahiti. Rarotonga International Airport (IATA: RAR) is the main gateway to the Cook Islands. There are daily services to Auckland (3.5h) and weekly services to Sydney, Tahiti and to Los Angeles. The international airlines are Air New Zealand and once-weekly Air Tahiti.
Travel Guide for The Cook Islands : Food, hotel, Cost, Weather & geography, History, language, culture, things to see and do and how to reach. – Published by The Beyond News (Travelling).