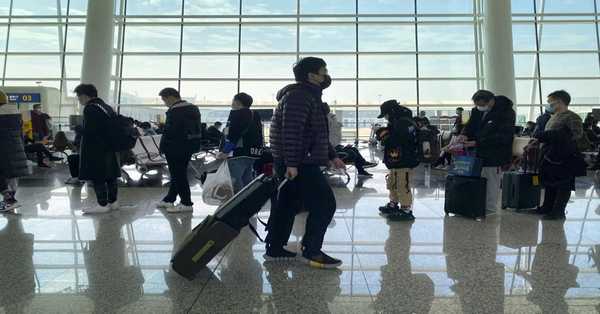 A 10-member World Health Organization (WHO) team is arriving in China on Thursday
A 10-member World Health Organization (WHO) team is arriving in China on Thursday. The team will investigate from there in Wuhan, where the corona virus originated. Meanwhile, China is coming up against manipulation of Corona patients. National Health Commission of China
The NHC said that on January 12, several months later, there were more than 100 new cases of infection. Of these 115 cases, 107 are of local level transition. The rest is related to outsiders.
The commission said 90 cases were reported in Hebei Province, 16 in Heilongjiang State and one in Shangxi Province. No more than 100 cases have been reported in a single day in China since August. China has been accused of spreading corona since last year. The United States has even claimed that a virus has developed in its lab, causing a worldwide crisis.
Brazil has made a big claim about China's vaccine. Their scientists say the Coronavec vaccine developed by Synovac Biotech is only 50.4% effective against Corona. If this claim of scientists is true, then this vaccine is the least effective among other vaccines in the world. The data for the third phase of the trial of this vaccine came only last week. It is then said to be 75% effective.
number of coronary patients in the world has crossed 9.27 crore. More than 66.2 million people have recovered. So far more than 19.85 lakh people have lost their lives. This data is according to www.worldometers.info/coronavirus.
Troubled America is putting tremendous pressure on American hospitals right now. This is due to the increasing number of cases and the admission of new patients to hospitals. There are some states like California where Maxshift hospitals are also falling short. CNN Health Department figures cite 3 million new patients identified in just 13 days. Which means it's about to be the most delusional time of the year, as well.
Portugal, on the verge of elections, is once again facing a severe lockdown. However the government has made it clear that the schools will not be closed as the students are already in a lot of trouble. Prime Minister Antonio Costa said: "It is your collective responsibility to work together to control the epidemic. Because, if this is not done, it will be dangerous for the country. The country also has elections on January 24.
toll from the transition in Italy has crossed on Wednesday. A total of 80 thousand 326 people have died in the country so far. However, the transition is now being seen to be somewhat controlled. Earlier, more than 50,000 cases were coming every day. Now this figure has come down to around 15 thousand.